Faico has been the natural ally of Cocos Island since 1994.

During this period, it has promoted the management and conservation of Cocos Island and its surrounding ecosystems.

Teamwork, investment, and support are the essence of Faico.
May 13, 2019
The Friends of Cocos Island Foundation, Faico, is a pioneering organization that has focused on the improvement of Cocos Island and its ecosystems. Its strength has been the model of collaboration with the Government, NGOs, private sector, and civil society to manage resources and develop partnerships, achieving shared goals in the conservation of these Marine Protected Areas.
"The Costa Rican government could not undertake all the responsibility by itself and that is why, with the same enthusiasm with which the Cocos Island National Park was created in 1978, we created the Friends of Cocos Island Foundation in 1994. We have given our heart to it because every time someone contributes with this treasure, our national prestige increases", as was expressed by Mr. Rodrigo Carazo Odio, founder of Faico in 2003.
Faico's effort has allowed the execution of countless projects, as well as the exclusive and permanent accompaniment of a team of professionals committed to various initiatives in the Cocos Marine Conservation Area (ACMC). Throughout its history, Faico has invested an average of $350,000 per year in Cocos Island and its associated ecosystems, thanks to the support of donors.
"We have the privilege of being able to visualize the vastness and importance of marine ecosystems, vital to the health and biodiversity of our planet. This year, Faico celebrates its first 25 years of helping in the work carried out by the Cocos Marine Conservation Area. Let us all join in caring for and protecting its sustainability." said Carlos Manuel Uribe, President of FAICO.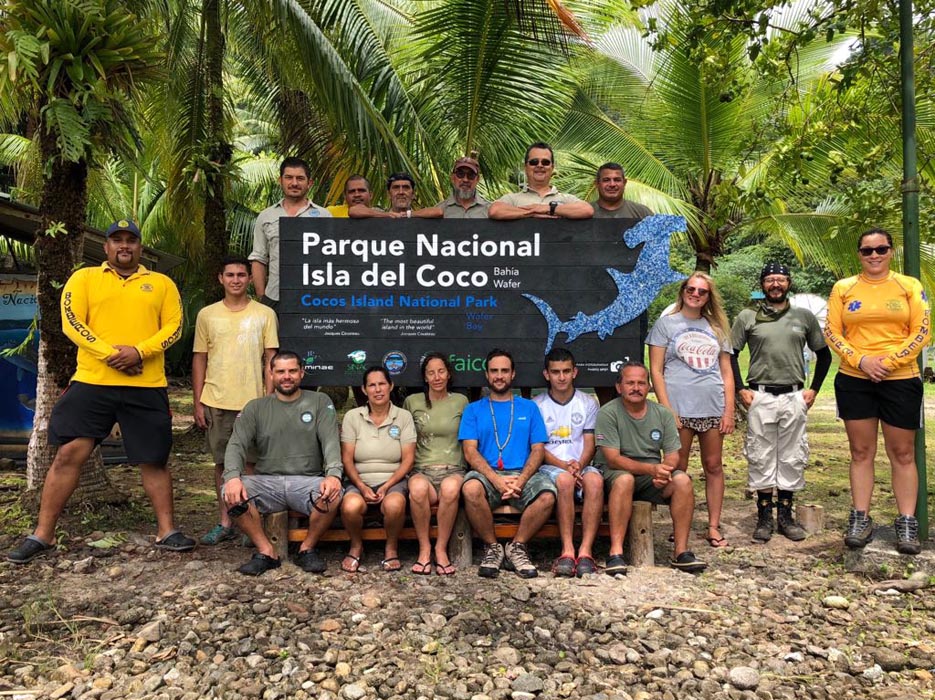 During these 25 years, Faico formalized successful relationships with organizations and companies, including Conservation International, UNESCO, Oceans 5, French Facility for Global Environment, Charles Darwin Foundation, Cuestamoras, SC Johnson de Centroamérica, and Auto Mercado, among others. We were the first NGO in Costa Rica to sign an agreement with the Global Fishing Watch platform, and with this, we prepared the study "Analysis and Characterization of Industrial Fishing Pressure in the Cocos Marine Conservation Area and Surrounding Exclusive Economic Zone of Costa Rica," an integral product of the first marine Prevention, Protection, and Control plan for the ACMC, which we donated in 2018.
During its existence, Faico has promoted and delivered inflatable boats, patrol boats, equipment for patrolling and transportation between bays, supplies for park rangers, signs for protected areas, and financing for marine research activities, among others. Likewise, the joint articulation and construction of infrastructures such as the villa "Her Majesty Queen Beatrix" to be used as a park ranger house, the "Rodrigo Carazo Odio" housing complex, and the Operations Center for Volunteers and Researchers, and clean energy works.
Faico's contributions have had a direct impact on the following programs: Control and Surveillance, Sustainable Tourism, Natural and Cultural Resources, Administration and Operations, and Quality of Life for Park Rangers.
"Our 25-year history challenges us to be the natural and unconditional ally. The initiatives carried out by Faico are the result of teamwork and people who love what we do, but especially stakeholders have seen our organization as that partner that is capable of channeling their interest and willingness to support this national park," said Alejandra Villalobos, Executive Director of Faico.
Faico has promoted more than 30 events and campaigns, which have allowed the awareness and participation of private companies, national and international leaders, and the general public in order to tirelessly convey the importance of conserving and protecting this oceanic gem.  An example of this was the support provided to the Government of Costa Rica to achieve the declaration as a Natural Heritage Site of Humanity before UNESCO in 1997.
A recent example of our work and of our ability to work as a team occurred in March 2019.  We were part of the project "Cleaning our Cocos Island", which managed to extract 14 tons of accumulated waste and residues, a historical fact that sought to mitigate the impact of pollution on marine and terrestrial biodiversity in the "most beautiful island in the world".
At the regional level, Faico is an allied organization of the Eastern Tropical Pacific Marine Corridor (CMAR) initiative, which has allowed joint participation with park rangers in other marine areas, such as the Galapagos.
"Our commitment does not end here! We will continue to join efforts and work every day to conserve our treasure and Natural Heritage of Humanity: Cocos Island," Alejandra Villalobos, Faico Executive Director, stated.